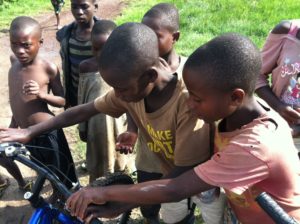 This route is loosely based on one found on bikepacking.com and will be an approximate 1500 mile (2415 km) loop that starts and ends in the small village of Kasanda where some of our Get Schooled kids live. We are going to spend some time with the families from Kassanda Children's Aid before we set off. The trek includes single track, jeep trails and dirt roads and is 92% unpaved. The total ascent is approximately 85,400′ (26,030 m) and the highest point is at 8160′ (2487m).
I'm sure, based on our previous experience in Rwanda and Uganda, we will be quite the spectacle and will most likely have an audience 95% of the time. We are anticipating hearing the familiar cry, "Mzungu! Mzungu!" (foreigner) everywhere we go.
Now that we have our tickets booked, our Visas applied for, most of our gear in place, and a loose plan, it's time to dial in our route. We know there will be changes, but we are setting our stages to celebrate bite-sized accomplishments along the way. We have outlined our proposed 'stages' below with various highlights, concerns, anticipated awesomeness and VERY approximated mileage.
Stage One: Kasanda to Sisiyi Falls (about 255 miles)
We arrive in Entebbe at about 10:30 pm so our first night will be spent close to the airport. Our host from KCA will pick us the next day and drive us to Kasanda to meet some of our Get Schooled kids. Of course, thanks to you all, the kids will be IN SCHOOL, so we hope to meet as many as possible as it will be in the middle of the week when we set off. From there we will ride to Kyampisi to meet and stay overnight with a friend who works with survivors of child sacrifice and child soldiering. We hope to meet these brave ones and enjoy some quality time playing with them. From there, we are off and on our own!
Stage One anticipated highlights:
Riding through Jinja – the source of the Nile. We have made contact with FABIO, an NGO that works "to operate all bicycle related projects such as 'Cycle to School', 'Bicycle Ambulances', the Bicycle Tours and Rentals and offer Repair Service. As a social business its target is to reduce poverty in Uganda by creating jobs and training the youth, increasing accessibility of health care services by increasing mobility of both individuals and health care workers, [and provide] better access to markets and education." Pretty cool, huh? Hopefully, they have some riders who want to join us for few miles!
Views of Mt. Elgon as we ride towards it (and thankfully, not over it)
Sisiye and Sipi Falls – apparently 'must-sees' in this region
Stage Two: Sisiyi Falls to Lira (about 170 miles)
This stage is a little more lonesome and will most likely involve travel through smaller villages and more remote land. That will be both good and bad. We will not have to worry much about traffic, but will have to plan ahead for water and food with greater intention. I really don't think this will be an issue, but I also really have no idea.
Stage Two anticipated highlights:
meeting people in a more rural setting and interacting with the culture of Uganda
putting Ugandan hospitality to the test as we look for safe places to pitch our tent
this is the shortest of our stages and the flattest section of the route so we hope to put in good miles
Stage Three: Lira to Fort Portal (about 300 miles)
This will be the longest stage of the trip and probably the most exciting for wild life and diversity of landscape. We will ride towards Lake Albert (one of the African Great Lakes) and then follow its east boundary into Fort Portal, the only African city with an English name!
Stage Three anticipated highlights:
views of the Rwenzori Mountain range
NOT getting malaria as we ride through the Apak district, dubbed the "malaria capital of the world"
The Budongo Forest
Stage Four: Fort Portal to Kabale (about 270 miles)
This stage will also be quite spectacular and we anticipate having some up close and personal contact with a variety of animals – hopefully the friendly kind. This section starts with a ride right between the Rwenzori Mountains National Park and the Kibale Forest and then dips down by Lake George, across the Kazinga Channel and right between the Kasyoha-Kitomi Forest and the Maramagambo Forest. From there, we head south to the Bwindi Impenetrable National Forest and if that name doesn't capture your imagination, I'm not sure what will!
Stage Four anticipated highlights:
spending so much time around Queen Elizabeth National Park
being in a rather touristy area with lots of helpful people and supplies
riding over the equator!!
many sights to distract ourselves from how tired we will be at this point
riding through parts of the Bwindi Impenetrable National Forest (hoping to see a gorilla, but I have no idea if this will be accessible to us – bikes can't go through some parts of the park for obvious reasons called lions, elephants and buffalo)
testing our mettle against the steepest sections of the route – up and over!!
Stage Five: Kabale to Kasanda (about 220 miles)
This last stage will be an exercise in survival as we will no doubt be exhausted and ready to be done. I hope I'm like an old horse being ridden back to the stable, breaking free in an all-out awkward sprint in anticipation of a much needed rest and a bucket of oats in a comfortable environment. We have been warned about buffalo in this section who don't like bikes and we have plans A and B mapped out. Plan A will throw caution to the wind and if the locals say to go for it, we will. Plan B will be a more conservative approach that takes tarmac roads for part of the return and takes us a bit out of the way. It really depends on where we find ourselves at this stage with the time we have left.
Stage Five anticipated highlights:
I hope we feel stronger than ever at this point
that feeling you get when you're in the home stretch
rolling back into Kasanda to celebrate with the children and their families
being done – who am I kidding? I'll probably be so depressed when this adventure is done, I will need therapy.
We will be taking a Garmin InReach Explorer with us so stay tuned on how to follow us in real time starting on June 4th. We are REALLY looking forward to this!